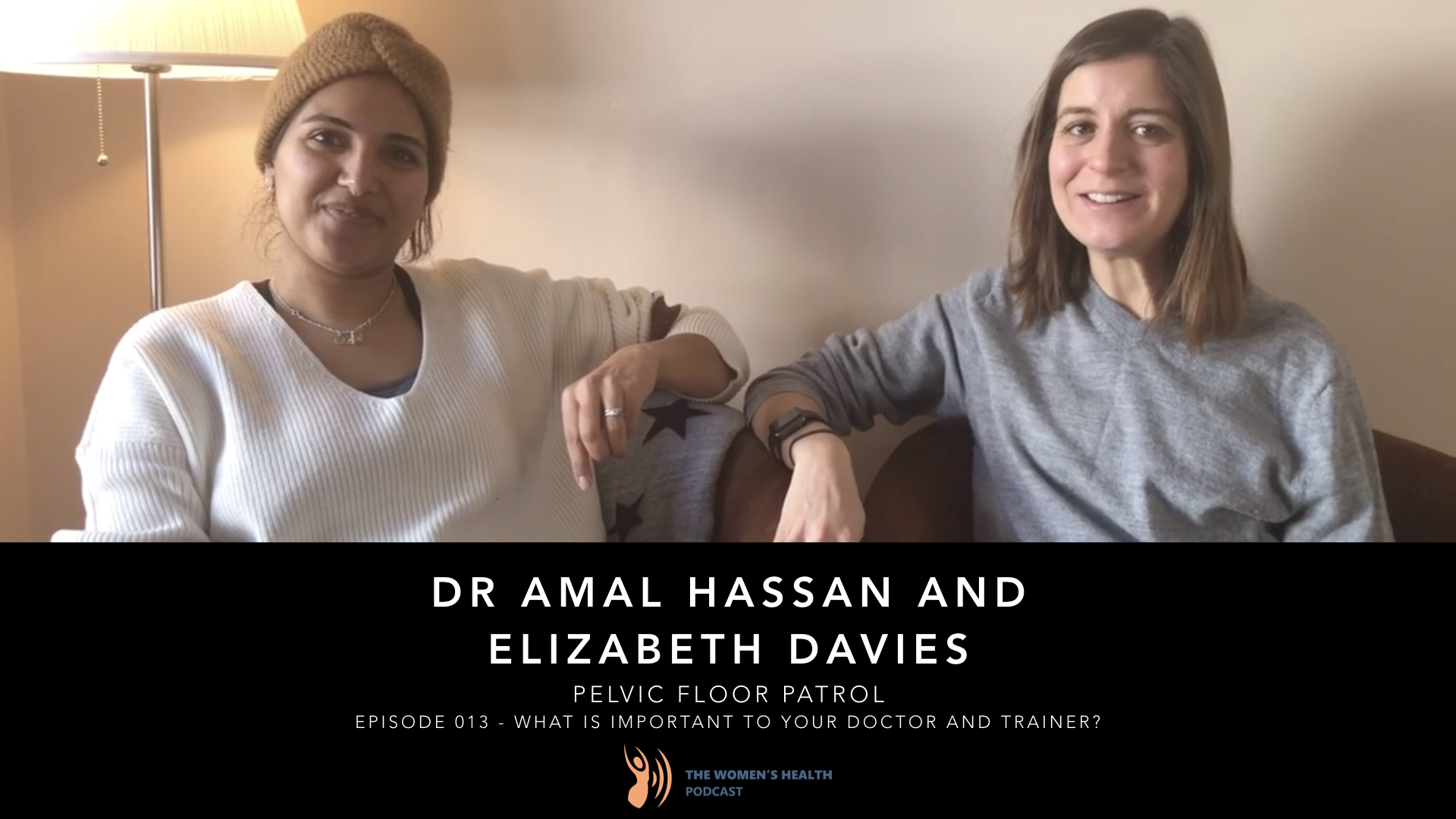 TWHP – 013 –What is important to your doctor and trainer? With Dr Amal Hassan and Elizabeth Davies
Dr Amal Hassan is a UK-based Sports and Medicine Exercise Physician who completed her Masters degree in the sub-speciality of female athletic health.  She experienced difficulties returning to exercise after the birth of her first child and as a result of that experience is now focussing on updating information available in the UK for postnatal women on meeting national physical activity guidelines.
Elizabeth Davies is a personal trainer who specialises in the needs of female clients in the west and south-west of London.  She has two children and as a result of her own experiences in returning to returning to exercise after the birth of her second child, decided to leave her career as a barrister to retrain in the fitness industry.  Elizabeth often works in partnership with women's health physios and is passionate about helping women to get back to the activities they love, as well as empowering them to perhaps try something new. 
In this podcast, Amal, Elizabeth and Antony discuss the need for better information for postnatal women and the role of 'The Pelvic Floor Patrol'.
Themes covered in the discussion include:
- Experiencing pelvic floor 'dysfunction' as a mum
- The lack of awareness among fitness professionals about pelvic floor 'dysfunction'
- Difficulties postnatal women experience in accessing information about resuming physical activity
- Physical activity guidelines; what they are and the role they play
- Pelvic health barriers to resuming activity
- The need for positive, aspirational and empowering health information  
- The potential mental health burden of restrictive advice
- The importance of focussing on how women conceptualise their physical state
- Remaining active throughout life
- Importance of educating health and fitness professionals about pelvic floor issues
- Pelvic health screening in fitness settings
- Self-assessment and self-measurement
- The need for governments to review/revise policy re pelvic health issues
- The role of 'safety-netting'
- Relative Energy Deficiency in Sport (REDS)
- The need for individualised care and goal-centred approaches for women returning to physical activity
- The importance listening to patients and constantly reflecting on the validity of one's own knowledge and preconceptions
Related Reading and Resources:
Links:
Sponsored by the Myotherapy Reading Room
The Myotherapy Reading Room provides a curated, keyword-indexed feed of topical peer review paper, podcasts, clinical practice guidelines and systematic reviews together with links to related papers and resources, all specifically selected to support subscribing clinicians in the application of evidence-based practice with particular regard to musculoskeletal pain and injury presentations, including chronic pain.
It's rapidly growing subscriber base includes physiotherapists, osteopaths, chiropractors, exercise physiologists, myotherapists, strength and conditioning coaches, fitness professionals, massage therapists and others from Australia, Canada, the United States, and the United Kingdom.